Wednesday, June 29, 2005
This is what it's all about
So I was reading Zazzafooky's blog this morning and she was talking about a reader who emailed her saying she should only write about the funny stuff. I thought that was so off base. I mean, blogs are personal and reflect what the author is going throug right now. That is why my blog name is Ho Hum, What!. That's how my life goes. Days and Days of ho hum and then a slap in the face or a emotional wake up call. I have been lax in posting lately, but only because of all the stuff going on in my life. Sometime I feel as if it is too personal, or to close to to the event to post. Like, for example, this weekend. My poor little brother tried to commit suicide this weekend. He didn't do a very good job, THANK GOD! But he took 15 pills of Claritin. His boyfriend had just broken up with him for another guy and he couldn't take it. So he was admitted to the psych ward at the hospital. From there it just got worse. When we were taking him home, he got into an argument with my mom and jumped out of the car and started walking down the road.Then we got swarmed by five cop cars because my mom called the police. It all ended ok though. He eventually went home and went to sleep.
(I feel better blogging about that now)
So you see kids, life is not all sunflowers and teddy bears. We bloggers try to make it appear so sometimes, but ultimately our blogs are for us. I take pride in my blog. I am not really computer savvy, but I learn a bit more each day. And my blog keeps me going.
posted by ~M~ @ 10:13 AM


Tuesday, June 28, 2005
I Hate Beer!
So yeah, I really hate beer. Except when I am a leetle bit

...stoned...
Then I start to drink like a fish. Probably because I can't feel my tastebuds. But hey, It's all good.
Hubby and I went to Lovey's house Saturday night to play poker. Texas Hold 'Em for you hardcore players out there. Sometimes Omaha, but only when everyone is sober. I am glad that I didn't play. I would have got my butt whooped. I just dealt the cards. I forgot my dealer visor and we lost the button so I got so confused. At least I didn't turn over any cards at the wrong time. Everyone gets so serious about that.
After poker (Hubby won $70) we all watched Pulp Fiction. It was on TV so it was all edited and shit. But the movie went on FOREVER! There were parts of that movie that no one has ever seen. The best part though is when Uma Thurman freaks out.
What's your favorite part?
posted by ~M~ @ 2:48 PM


Friday, June 24, 2005
So Pretty!
Even though Lindsay Lohan is now blonde and skinny (yes I said skinny not slender, when you can see your ribs through your clothes you are SKINNY!) she's a Long Island Girl and I Love her. This photo is from the Herbie: Fully Loaded premiere. I love the dress especially the color.
Wouldn't it be great if we could all dress like this every day!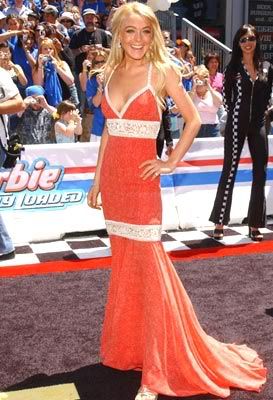 posted by ~M~ @ 9:22 AM


Thursday, June 23, 2005
I want to go dancing...
Thanks to www.zazzafooky.com for the spanish music. It made my Thursday alot better. I just want to get up and dance on my desk.
Considering the fact that I live on LONG ISLAND, I might just have to go into the City to find a place that plays good spanish music. Or I could just drink alot of Mango margaritas and turn up my computer.
Anybody want to join me?
posted by ~M~ @ 10:33 AM


Tuesday, June 21, 2005
Fun!



posted by ~M~ @ 10:58 AM


Monday, June 20, 2005
And the walls start crumbling down
This weekend was a doozy. Friday we went out with my M-I-L because it was her birthday and got totally plastered. We brought my cousin, the Princess, and since she just recently turned 21 we let her cut loose.
Well, she drank:
1 Gin & Tonic
1 Tom Collins
a shot of Blackhaus
a Long Island Iced Tea
2 Flaming Dr. Peppers (a glass of beer with an shot in it, i forget what the shot was though) and you have to pound the beer because it tastes like poo if you don't
My poor Princess was wasted but had a great time. M-I-L had a good time too.
Saturday was the Annual Family Picnic and well... that is a story for another time.
Saturday night our friends had their Last Hurrah party because they are moving out of that house on June 30th. Parties at this house seem to get crazy. To the point that some people have burned pieces of furniture in the fire pit they had in the backyard. Needless to say this party was no different. We played many, many games of Asshole and then the call was made to burn FYE staff shirts. (Alot of people worked there and were disgruntled.) Luckily we talked everyone down. But then J showed up. With the biggest blunt you have ever seen. Yes the night started downhill from there.
So after this blunt disappeared (very quickly) people started getting crazy. I myself had had, oh, about 6 strawberry daquiris. (They left the blender unattended :P) and the room was spinning. I went to the bathroom to get sick and the bathroom window was open. Well outside the window was Blondie and Debbie Gibson( DG for short), The Bitch and the Bitch's brother's girlfriend.
ED. Note: The reason my friends are moving out of this 4 bedroom house is because Blondie & DG are moving to Philly together and the rest of the roomates; Lovey, who is my best friend, Spanky, my friend who is originally from Boston and who is the Bitch's boyfriend, and M, another friend, cannot afford the rent with out Blondie & DG. They are looking for a house but might not be able to find one before June 30th. Now, Lovey is a Grad student at NYU's The New School, a crazy demanding curriculum. AND finals just ended, so Lovey was writing 70 page papers and looking for a house at the same time. The roomates decided Lovey would look for the house because everyone else works full time. Lovey can go and stay with her parents and so can M but Spanky would have no place to go because the Bitch's parents won't let him stay with her. (They are both 27 yrs old.) Hubby and I offered Spanky our couch until they find something and he accepted.
End of ED.Note
So there I was sitting on the floor of the bathroom ready to heave when I hear the foursome above talking about my girl, Lovey. The Bitch is bitching(he, he) about how Lovey is complaining that she is so stressed about finding a house. The Bitch is barking about how Lovey's parents are so fucking rich and they pay all her bills and how she, the Bitch has to pay all her own bills, and how Spanky can't afford all the houses Lovey is looking at, etc, etc, etc.

I saw red at that point.

How dare she talk like that about Lovey! This girl practically lives at this house. She contributes nothing to the house and fights with Spanky all the time.(To the point that Spanky punched a tree and broke his hand)
So, I decided to go out there and give her a piece of my mind. I walked over to the sliging glass door, opened it and said straight to her face, "How dare you say that about Lovey when Spanky will be living on my fucking couch if she can't find anything!"
Well all hell broke loose then. I got into a huge argument with the Bitch. Then Hubby and I left.
Needless to say Hubby is not happy and things are strained.
I need good vibes people!
posted by ~M~ @ 2:36 PM


Friday, June 17, 2005
Look Below!
posted by ~M~ @ 11:19 AM


Happy Friday Everyone!
This came in my inbox the other day and I think everyone who visits my blog will pause and reflect and be happier for it.
"The man is a success who has lived well, laughed often, and loved much...who has gained the respect of intelligent men and the love of children...who has filled his niche and accomplished his task... who leaves the world better than he found it, whether by an improved poppy, a perfect poem, or a rescued soul... who never lacked appreciation of earth's beauty or failed to express it... who looked for the best in others and gave the best he had."-- Bible
posted by ~M~ @ 9:03 AM


Tuesday, June 14, 2005
Two Year Anniversary!
Today is mine & my Hubby's TWO YEAR WEDDING ANNIVERSARY!
In Celebration here are some bumper stickers:
(Thanks to
http://www.anomalousnoodge.blogspot.com/
for the
site.






posted by ~M~ @ 12:58 PM


Monday, June 13, 2005
Virginia?
So it looks like we are moving to Virginia. Hubby and I had a nice conversation last night over dinner at Red Lobster and kind of got everything out. We talked about living in a place other that New York (which for a Native New Yorker might as well be the moon), leaving our families, finding jobs, a house, raising our kids (when we have some). It really cleared the air between us. I am scared, but I think moving out of New York will really give us the ability to raise our kids in a stress free environment. Struggling to pay the bills each month is not a good way to live. Both Hubby and I know that (we are both the oldest siblings in single mother families) and we want a better life for our kids. We are thinking Virginia, specifically Charlottesville, because my aunt lives close to there and it is close to a friend. If anyone has any knowledge of the area, let me know how you like it.
posted by ~M~ @ 11:31 AM


Thursday, June 09, 2005
Cats!
You scored as Couch Potato Cat. Decorative pillow? No, that'd be you sitting on the couch, even still. Hmm. . . I'm guessing you have Web TV.



| | | |
| --- | --- | --- |
| Couch Potato Cat | | 100% |
| Ninja Cat | | 75% |
| Drunk Cat | | 67% |
| Derranged Cat | | 67% |
| Love Machine Cat | | 42% |
| Pissed at the World Cat | | 42% |
| Nerd Cat | | 0% |


Which Absurd Cat are you?
created with QuizFarm.com
posted by ~M~ @ 2:23 PM


Wednesday, June 08, 2005
91 Degrees and Counting!
I am in heaven today! ( I also thought the orange font was highly appropriate to the soaring heat) I love the hot weather . i am so happy thet it finally got here to NY. We had rain and cold for so long, I thought it would never end and we would have to build an ark. But the hot weather is here and here I am stuck at work. Blogging, but still inside.
I just mapped my route by train to Coney Island. I am volunteering at the Mermaid Parade there on June 25th. The Mermaid Parade is like the official opening of the beach at Coney Island. The parade is made up of floats dancers and marchers all dressed up in an Under the Sea theme. Everyone marches down to the water and we all give offerings to the sea for a good summer. Then afterward there is a Mermaid Ball and you get to party till dawn. A King and Queen are elected, usually some sort of celebrity. A couple of years ago Queen Latifah was the queen. It's so much fun. If anyone is in the area at that time let me know and we can meet up.
I hope everyone has good weather like me. TTFN!
posted by ~M~ @ 1:39 PM


Monday, June 06, 2005
Make a decision, hope for the best, and fight til' the end!
posted by ~M~ @ 12:30 PM


Friday, June 03, 2005
I'm having trouble getting into June mode.
I am having trouble writing 6 instead of 5. I have to date everything I do at work and June is gining me a problem. If that could be the only thing that troubles me. I have to say though that Hubby is getting gold stars all around for being the most supportive husband ever. He just started a new job and I am the one getting worried. But he is all pumped up about it. AWWW! I made a pun. (He is working at Bally Total Fitness) The good thing is he gets to go to work in a polo shirt and workout pants. I wish I could do that. I hate getting dressed up. My office is fairly casual but nothing like that. I have to go shopping for summer clothes anyway soon. I think I might just buy my whole wardrobe from Newport News. Check them out at www.newport-news.com. They have awesome stuff and stuff that is comfortable, durable and professional. (No, I was not paid to say that, but I wish I was.)
I hope everyone has a wonderful weekend without too much rain!
:)
posted by ~M~ @ 11:56 AM