Tuesday, November 01, 2005
WTF?
Sometimes I wish that I could just blog about mundane things for awhile like what I had for breakfast or what I saw on my drive to work. (BTW, I had a buttered roll and a V8 and I saw this:)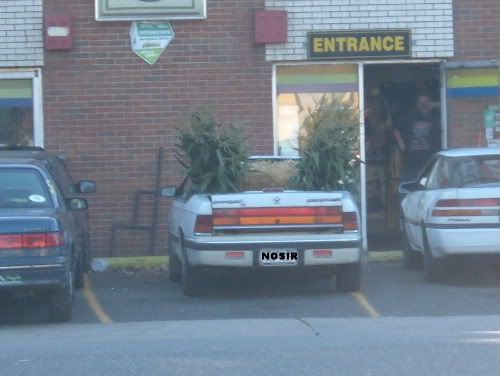 But alas it is not to be. My brother/devil child is rearing his head again. My mom is not helping. And as much as I try to stay out of it I get pulled back in because it hurts me to see them hurting.

Just a brief synopsis. Last night Hubby went to see Medeski Martin & Wood in the City. NYC to be exact. I got to have a night to myself which we all need sometimes. I took my time getting home from work. I stopped at Mace's to get anew shower curtain, and kind of walked around a bit. Then I had a chiropractor appt and went to get a bite to eat at the diner where my M-I-L works. After that I went home and just read a magazine for awile til I got another one of the dreaded frantic phone calls. Little bro "needed a place to stay for the night". He had gotten into an argument w/ my mom and left. Before I said anything I called my mom to find out what the story was because bro never can tell me actually what happened. He just kind of tells me that she started yelling. I think he maybe can't understand her when she's yelling or he tunes out. Well, mom said she had asked him to help her around the house and he wouldn't. I called him back to try to talk to him and calm him down. Trying to get him to just go home and got to bed. Well he hung up on me. Then I went to bed because it was 11pm by this time. 30 min later he calls back almost crying. I pick up the phone and try to talk to him and he accuses me of always being on mom's side and hangs up. I call him back and it goes straight to voicemail so I hang up and go to bed. Phew! What a earful! Just recounting it makes me tired and gives me a headache just like last night. Then I had ona movie where there was a big car crash in full detail and that brought up memories of my aunt.And I think because it was halloween and I had been watching The Girls Next Door who had a seance. I kept imagining my aunt as an angry ghost trying to hurt me for the accident.

I'm pissed off, hurt, sad, and worried. GRRRRRRR!
posted by ~M~ @ 10:46 AM