Thursday, October 27, 2005
WEIRD & More Happy Birthday!
First order of business is my Beautiful Cousin Haley's Birthday today! She is 22! Here she is:




Please send a wave and some Happy Birthday's her way!

Second, Kinda, sorta been tagged by Soapbox.Superstar to show what my desktop looks like. So here you are: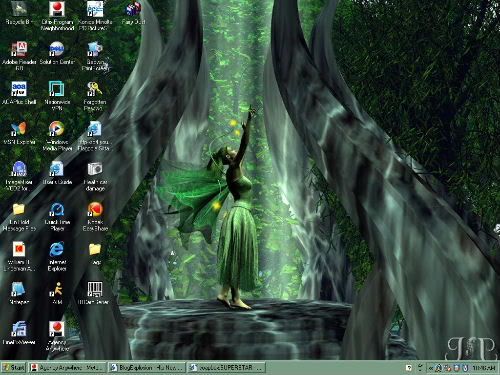 If you can't tell I like the color green and I like fairies.

As Per Soapbox, I'm tagging everyone!

All you have to do is take a screen shot of your desktop. If you don't know how, here are some instructions to help:

Click your mouse somewhere on your desktop. Press the Print Screen key on your keyboard—this captures what's displaying on the entire computer screen.

Once you've captured a screen, it is in an area of memory on your computer and will stay there until you copy something else. You can now paste this captured image into a document or into a graphic application such as Microsoft's Paint (available through Start > Programs > Accessories > Paint) and modify it.

Post it on your site and leave me a comment and let me know you did it.

Third, I just rented my blog out (on BE) again to Shane Gilreath. PLEASE, PLEASE, PLEASE got take a look at his site. He is a poet and the pictures he posts are beautiful.
posted by ~M~ @ 10:58 AM