Thursday, October 13, 2005
Am I Crazy?
Seriously, please tell me if I am mean and nasty. I try not to be but people make it so easy for me. Every morning I check my email then I go to Myspace and check if anybody sent me some love. This morning, I got a message in my inbox there from this guy who wasn't a friend. This is the email he sent to me:

From: INDK
Date: Oct 12, 2005 9:17 PM
Yo, dont put plastic wrap on your tat while it heals, youre gonna just smother it, it needs to breathe. All is needed is a small amout of ointment, just enough so its not shinny in the light, too much oinment will also smother it. Just some advise, Ive seen friends tats get screwed cause they didnt heal it right. Have fun, and enjoy the ink.

I'm guessing that was in response to this: My latest tattoo I posted on a tattoo message board.



This was my response: Please tell me I was sort of nice...

I could be a bitch and send you some message back filled with curse words and LARGE MIDDLE FINGERS, cuz like you don't know me and you're judging me. I shouldn't have to explain myself, (especially today because it's been raining for the LAST FREAKIN FIVE DAYS!) but I will because I am gonna send you some love because you seem to need it. That pic was taken ten minutes after the tat was done. You leave the plastic wrap on for an hour then take it off and wash with Dial antibacterial soap then cover with a thin layer of A&D ointment. See you didn't know the whole story hon. It's ok I forgive you. (AND YES, I am certifiably insane, isn't it great the people you meet online. I'm only a few hours away from you dude. ;))


And then I will leave you with this: I thought it was freaking hilarious.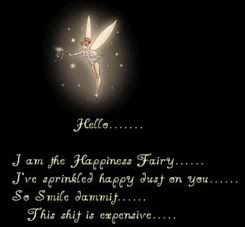 posted by ~M~ @ 9:19 AM