Wednesday, September 28, 2005
Yo, Vinny!
So apparently the Jets are falling back into old habits. They are still giving Brooks Bollinger a chance this weekend (glad to see Herm thinking to the Future), but Vinny Testaverde is coming back. Hopefully to save the day. More likely to just make the games entertaining enough that people will still come to the game and watch on TV.

So here's to a season, Yo, Vinny!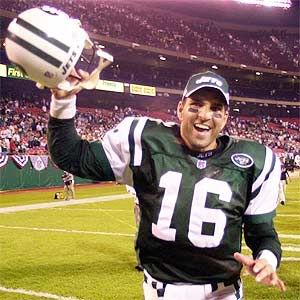 In other News:

The landlord for the house we were looking at is possibly bringing the rent down for us. He really likes us and wants to rent to us, so he's working with us to make it happen. It looks ike we may only have to increase our current payment of $900 to about $1400 or so. We shall see.

Good Vibes, people, Good Vibes! ;)
posted by ~M~ @ 11:30 AM