Thursday, October 20, 2005
More classification...
I get bored very easily. I cannot amuse myself except on very good days. I tend to go alittle crazy when I am with friends. I think that scares them a little. Except for my crazy frends. Like the pimp. I am a mature woman. I am slowly learning to get intouch with my sexuality. I believe I picked a safe way to do that. With marriage. I like being married. It frees me to focus on other facets of my life (albeit unsuccessfully so far.) I have no sympathy for people who cannot do the basic things in life like laundry and paying bills and getting the car fixed. I am very empathetic to a person who has had tragedy in their life. I think that is what will make me a great nurse. If I can ever freakin get back to school.

OK in other news, Hubby is playing at a place called Da Funky Phish tomorrow night. That is what I had to tell you guys the other day but I didn't want to jinx it. This club is kind of the next step up from garage band on Long Island here. http://www.dafunkyphish.com/ They are listed as *special guest*. ;)

And TADA my new tats: First on is my right arm then both arms together.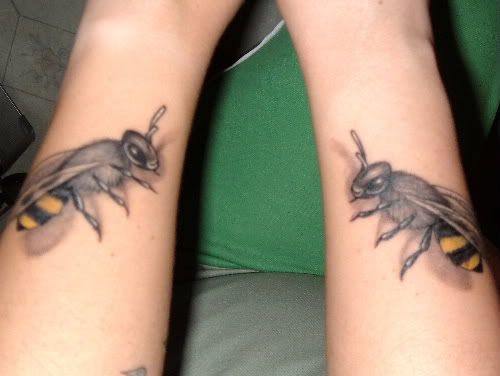 posted by ~M~ @ 11:14 AM