Monday, August 22, 2005
So I got some weird comments on my last post about losing weight. Some girl said, "I don't feel sorry for you - get on the treadmill." Ok first did I ask for sympathy or anything like that (NO!) and second my post was about how I just spent two hours at the gym and walked a mile and a half to go to the bank. I am doing something about my weight! Golly, people are weird! Then I got this creepy comment: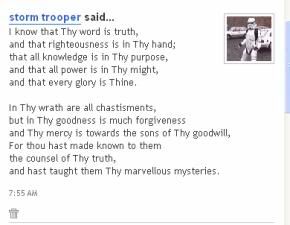 Who are these people and what planet are they from?
Also What Not to Wear is doing a mall tour where you can actually get advice from the hosts about what not to wear. (teehee! ;)) They are going to be in NY this coming weekeend but check here for where they are going next. Have fun I know I will!
posted by ~M~ @ 12:18 PM