First drive around for hours running errands in dead stop traffic.
Then, watch a T.V. show that mirrors your life (for me Law & Order: SVU).
Third sit by yourself for five hours about to cry thinking about all the crap you have to deal with in your life, past, present, & future.
Finally, tell someone your deepest darkest secret, only to have them tell you it's normal.
Thank you to my wonderful husband for putting perspective on my issues. I'm sorry I didn't call you. I promise I will next time. (You know there will be a next time.)
Thank you also to the Pimp. (You know who you are J.) We do have a deal and I intend to stick to it. Whatever you need, just let me know, even if it's just to talk at 4 in the morning. :P
To all my regular readers (if there are any) and all new readers:
This is what my blog is all about. To be able to come here and unburden myself and get such great support from all of you is amazing. I know I have my husband and friends but to see a different side of things is more than helpful. It clears the cobwebs away from a situation and allows the real truth to shine through.
For myself mostly and for you loyal readers out there who are probably dying of curiosity, my deepest, darkest secret is not so dark or deep anymore:
Sometimes when I am driving, I feel the urge to drive off the road into a tree or pole or another car. I think it is because if I do that I will get attention. The hard part about this is that just about five years ago, July 23, 2000 to be exact, I was in a major car accident in which my aunt (my mother's sister and the relative I was closest to) was killed. I have not been able to blog about this since I started but I feel like part of my story hasn't been told yet.

**Disclaimer** The accident and story behind it is not fun. It is upsetting so if you don't want that please stop reading now.**
My aunt lived in Santa Monica, CA. She had just gotten a divorce from her husband. She was 41 and married for 8 years or so. She had epilepsy so she couldn't drive, and so was coming to live with my mom, brother and I in NY till she could find a place that was convenient to public transportation. Her and I had always been close. She didn't have kids and I was the only female grandchild. She was also very young at heart. We decided that because we both wanted to take a road trip we would pack up all her stuff in a Ryder truck and drive to NY. We decided to make a vacation out of it and stop in Santa Fe (for her) and New Orleans (for me). The plan was to drive all day and then stop when it got dark and get a motel room for the night. As I said before she had epilepsy and couldn't drive, so I did all the driving. I had no problem with that. It was fun. We went through Arizona, New Mexico, Texas, & Oklahoma. The accident happened when we got to Arkansas. We were in Forrest City, about 50 miles west of Little Rock, and were coming up to some roadwork. The road had the left lane closed for a stretch. I was in the right lane already. We were going about 40 mph when we were hit from behind by an 18-wheeler. The crash propelled us into the 18-wheeler to the left of us and we then crashed into the 18-wheeler in front of us and we were pinned under the rear of that truck. My aunt died instantly when we crashed into the truck in front of us. I knew right away she had died. I feel that she died so she could protect me. I was not seriously hurt. She is definitely my guardian angel. I believe she is up in heaven with my grandma and grandpa looking out for me. I got a tattoo of teardrops. One for each of them, my aunt, my grandma & grandpa, my dog & my kitty. Take a look: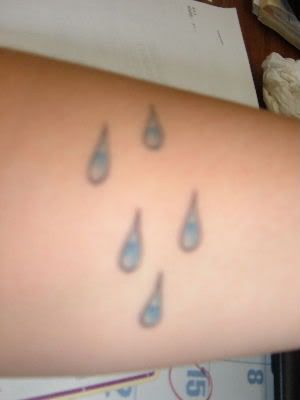 It's kind of blurry but it's ok.
AAAAHHHHHH! Cathartic. I feel so much better. Sorry to get you guys down on such a beautiful day, but y'all are great.

Toodles!