I know, I know, that's a lame Ashley Simpson reference, but anyway. ;)
I'ma goin to Adventureland tonight! Yay! It's like Coney Island and Great Adventure put together. And I don't have to pay. Not that I could, cuz payday is Friday, but the best little brother in the world is paying for me. :)
My new tattoo: as of this coming friday: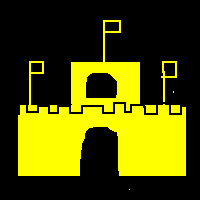 I suck at drawing but I will hope to get an actual picture of the tat when it's done. It's going to be a lot more colorful.
Trading Spouses (the TV show) is so wrong! Can I get a Hell Yeah on that one!
Reality TV, I think, in general is getting way off track. I love Real World, Road Rules, Survivor, etc. The genre has been cheapened though by such shows as Average Joe & Brat Camp. Now , don't get me wrong. I watch just as much reality TV as the next guy, but it leaves me with an bad taste in my mouth.
Country music on the other hand is rockin lately. Yes, I did watch the CMA Music Festival on TV last night. I am definitely a Redneck Woman. and Proud of it.
Ok, I'm done spewing my brain farts for the morning. Maybe more later.