Can life get any better! This weekend was one weekend that shows me why I am alive. I spent time with family and friends. Had alot of fun and little bit of fuss, but all told a good time.
First things first, I got my new tattoo! FINALLY! Take a look. Isn't it purty! ;)
Then because I finally got someone to take pics of my other tats. Here are three of the six I have total (#6 is the castle).
This was my first tattoo. I was 21. I drew it myself. It is my astrological sign, Aries. I so fit the profile of an Aries, so I wanted to reaffirm myself.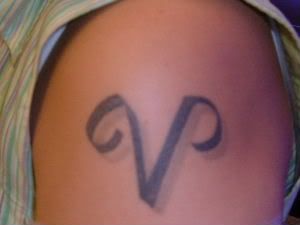 This was my second tattoo. It is a Kokopelli. My aunt who passed away loved southwestern things and the Kokopelli was her favorite symbol. This is kind of a memorial to her.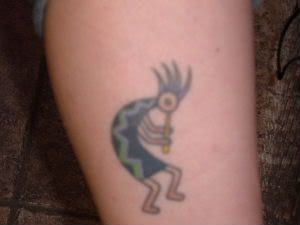 This was my fourth tattoo. It is a custom Celtic Cross. My grandmother was full blood Irish. Catherine Donoghue was her name. She passed away when I was little but I remember her vividly. She taught me how to read when I was three. This is an honor to her and our heritage.
Hubby also got a tattoo this weekend. It is the first of Musashi's Five Rings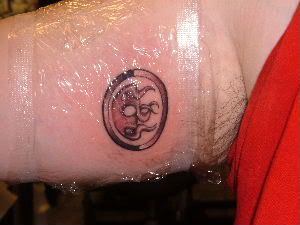 Then Sunday we went miniature golfing with a couple of friends. The weather this weekend was brutal. 99 degrees and counting. We waited till after dark to go, hoping it would be a bit cooler. No deal. Though it thundered and lighting flashed, the rain held out but the air got thicker and thicker. We left the course at 9:15 pm and went back to our friend's house. A couple other friends went to the Boardy Barn and were totally wasted when they got home (by a sober driver of course :)) So we were waiting for them outside. They finally got home around 11 pm. AND IT STARTED TO POUR! The rain we in NY so desperately needed came in buckets. We all just stood in the middle of the road and got soaked. It felt so good. The we went puddle stomping. Yay! Puddles! I was happy to be with my friends and just having fun. This is so rare as we all get older. I'm 25, most of my friends are in the 22-27 range so we are all slowly, kicking and screaming becoming adults with bills and responsibility and needing higher paying jobs. It sucks sometimes. To just be able to act like a little kid and jump in puddles was freeing and soul satisfying like nothing recently has been able to do.
So if it's raining by you, enjoy my pics and then go jump in a puddle, for sanity's sake!