Tuesday, December 13, 2005
Wrap it up...
So as requested, after my short hiatus, here is my tattoo:



Please excuse the blurriness. It was kind of difficult to take a picture of my own arm.
The purple was what I had done. The Aries symbol was my first ever tattoo, but my artist now just had to redo it. He said it was annoying him. :) That's why he's my artist. I had a very interesting experience this time. This marked my ninth time I've gotten tattooed and the first for my brother in law. That's why we went. Barry just turned 18 and he was getting the family crest tattooed on his leg. My hub has the crest on his arm. So it was a special day. We shut out the tattoo parlor for the whole day. We were there from Noon till 9:30 pm. We had two other friends getting tattooed too. Barry went first and passed out twice. Yes it was dramatic but he was ok. You just have to make sure your blood sugar is sufficient before you get tattooed. You definitely have to eat and always have something to drink. Preferably soda or juice. Then hubs went. Then I went because our other friend hadn't gotten out of work yet. Just about ten minutes into mine, our friend showed up. He had to be somewhere so I jumped out of the chair so he could go. Thet was probably the dumbest move I could have made. When I finally got back in the chair, I was definitely hurting. Then I picked purple as the color for the sky, not knowing that purple is the hardest color to blend. Yeah, GO ME! I almost passed out once. And I'm a seasoned pro at this. But I know you have to breathe deeply if you think you'll pass out. Get the oxygen to the brain. So I was ok. But the last ten minutes or so were hard. This is the biggest surface area I've ever got tattooed too, so I think that played a part.

But there is no beauty without pain. Tell me what you think, guys!

Then for Tammy: I found this pin on the ground when I went for coffee yesterday.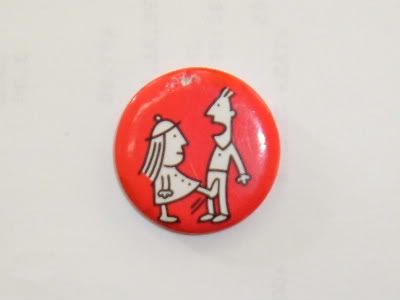 No offense to the boys , but sometimes you just have to do it. ;)
posted by ~M~ @ 10:02 AM