Wednesday, November 23, 2005
So I'm officially cheesy.
I told hubby what I posted yesterday and he was all like, "GREAT! Now I'm going to have that song in my head all day!" I just giggled. I love it when I do that to him. Because he is a musician (or at least that's what I tell myself to convince myself he's not just weirder than weird.) he is always singing. I mean as he walks around his job or the house. Singing. Out loud. Whole songs. Very loud & dramatically. So he started singing November Rain all dramatic, pulling his hair and gesturing.

I guess you just had to be there.

I thought it was hilarious.

And since I won't be back till Monday: Happy Thanksgiving to y'all! Hope you all have a safe, happy, drama free day.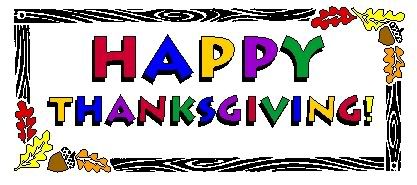 posted by ~M~ @ 11:11 AM