I have a new renter, Eph2810, so go on over and show her I'm not a crappy landlord. I know you guys can do it!



My Morning Inspiration: Communication paves a path for progress. Connect with someone!

In Honor of My Grandpa, who passed away in January, and my Cousin John, who recently came back from Iraq (safe & sound , thank God) Happy Veteran's Day to all those who served and who are currently serving in our nations armed forces. Whil many people including myself do not feel we should be at war, this is the time to thank those men and women who fight valiantly for what we all believe in: Freedom for all people. I say THANK YOU!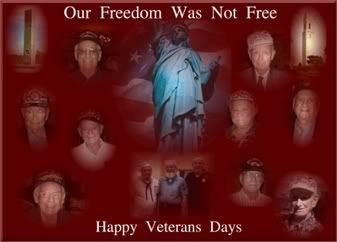 It's FRIDAY!!!!!!! Yay!

I heard a word today on the radio that I thought was great: Mantastic. One of the DJ's had used it to decribe Clive Owen. Now I don't think Clive is quite that. But you do know I LOVE Carmine Giovinazzo from CSI:NY and Jake Gyllenhaal from Jarhead. The original for me is Johnny Depp though. Elijah Wood comes in on my list too. As do Gael Garcia Bernal & Bam Margera. OOOEEE!