From Susan
:
Where was I ten years ago?
I was in high school. I had just gotten my braces off and was starting tenth grade. I met the man who would become my husband that year. We met during a theatre production of "Leader of the Pack"
Five years ago:
I was in the process of breaking away from my mom and moving out of the house. I was also in a major car accident where my aunt died. I love you, Aunt Susan!
One year ago:
I was celebrating my one year wedding anniversary with the most wonderful man in the world.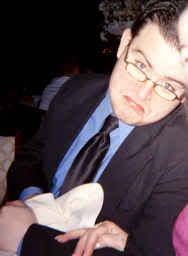 And wrapping up the most hectic year of my life.
Yesterday:
I went to dinner with my mom, my brother and my aunt who is visiting from Virginia. We had fun! Which is saying alot!
Five snacks I enjoy:
Doritos
Onion Dip & Potato Chips
Cheez'its
Pickles
Coca Cola
Five Songs I know all the words to:
Free Fallin by Tom Petty
Last Kiss by Pearl Jam
Shoop by Salt N Pepa
All I Wanna do by Sheryl Crow
Redneck Woman by Gretchen Wilson
Five things I would do with $100 million:
Set my husband up with his own bar
Set up a foundation for homeless and underpriveleged kids in America
Buy a house for myself, my mother and my mother in law(3)
Take a yearlong trip around the world
Send my brother to whatever college he wants to go to.
Five locations I would like to run away to:
Ireland
Maldives
Spain
Australia (I loved the Thornbirds)
New Orleans
Five bad habits I have:
PROCRATINATION!
Driving too fast
Impatience
Spending too much money
Itching mosquito bites
Five things I like doing:
Talking to people (my hubby esp.)
Watching movies
Sleeping
Eating great food
Playing Badminton until 4 in the morning
Five things I would never wear:
Tapered leg jeans
Blazers with shoulder pads
A bathing suit with a skirt attached
Anything Gold lame'
pink lipstick
Five shows I like:
CSI
CSI:NY
Mind of Mencia
The Real World
Survivor
Five biggest Joys of the moment:
My hubby is happy with his Job
I am exercising and eating right
My brother is talking to me
I am happy with my job
I am going back to school
Five Favorite toys:
My digital camera
My car
My new pen
My computer
My remote control
Now I tag the first five people who read this (if they want to)
Again, Happy Weekend everybody!